Sharing some details about Geordi's BEST DAY, where he and handler Joshua Hargis of Summerwind Canines, went BEST IN SHOW at the Sierra-Tuolumne Kennel Club! 
The 2021 Sierra-Tuolumne Kennel Club shows were held in beautiful Angels Camp, CA, which was a one-time venue change for this club that we really enjoyed for the beautiful grounds and opportunity to visit a new local venue. We have always loved this club as one of the few remaining "local clubs" who still hold their show in their own territory, on their own. We had a special feeling about the 2021 show, remembering that our girl Nexpa had received a nice group placement there in 2017.
That weekend we showed Geordi's children, Bannister, Bodhi and Clover, all three of them out Alta. Bodhi finished his championship, so it was already a lucky weekend for us! We enjoyed time with friends from many breeds and Holly showed Icelandic Sheepdogs with friends.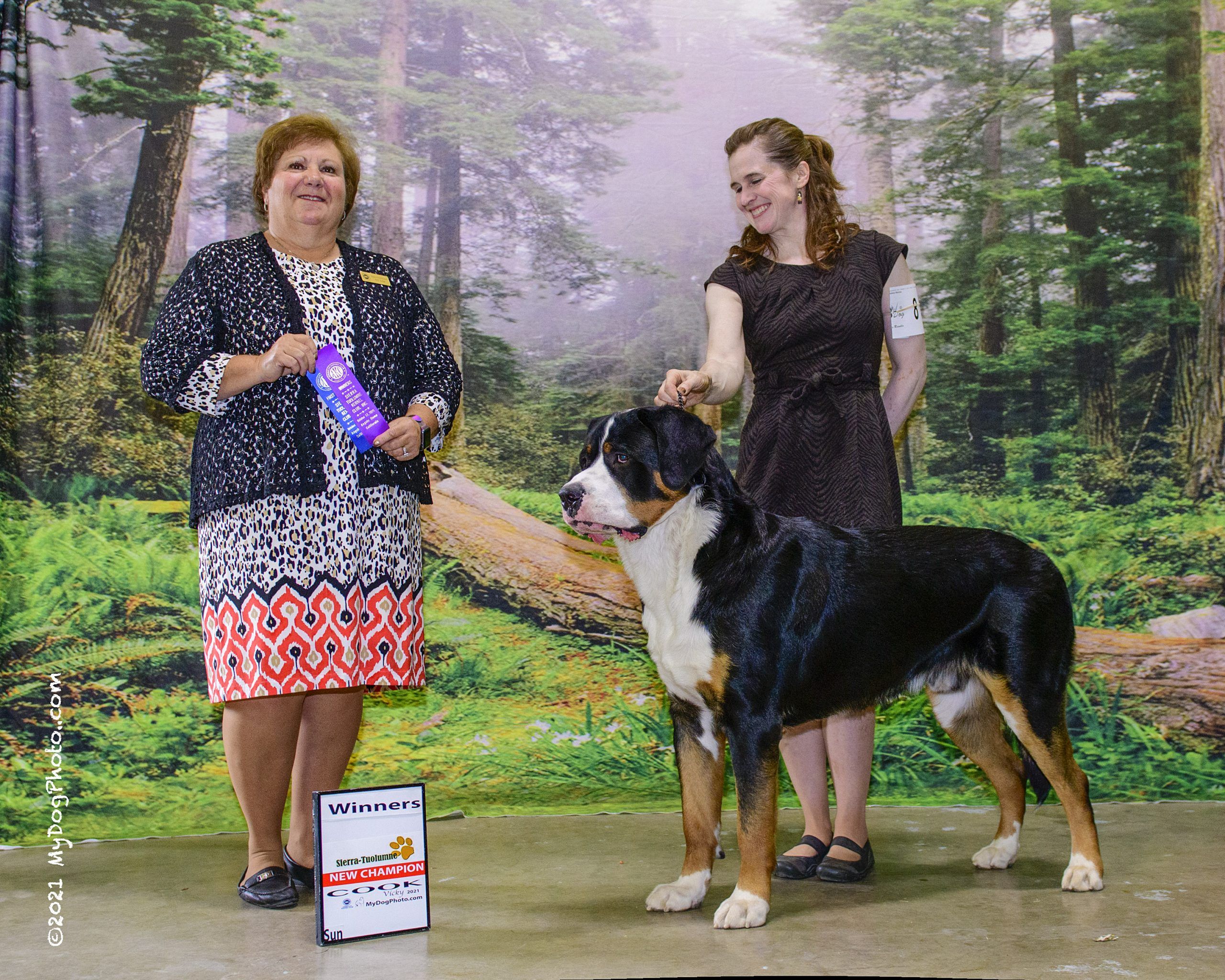 Bodhi, above, finishing his championship under Bernese Mountain Dog breeder judge, Dawn Hitchcock.
On Saturday, we stayed for groups and watched Geordi. We watched along with a family visiting the show to check out the breed. When Geordi won the group, for the first time ever, under "dog show legend" Patricia Trotter, Holly was at first speechless, as she didn't really realize what was happening. Photographer Diana Han captured the pure joy of this amazing win, that caught us all by surprise.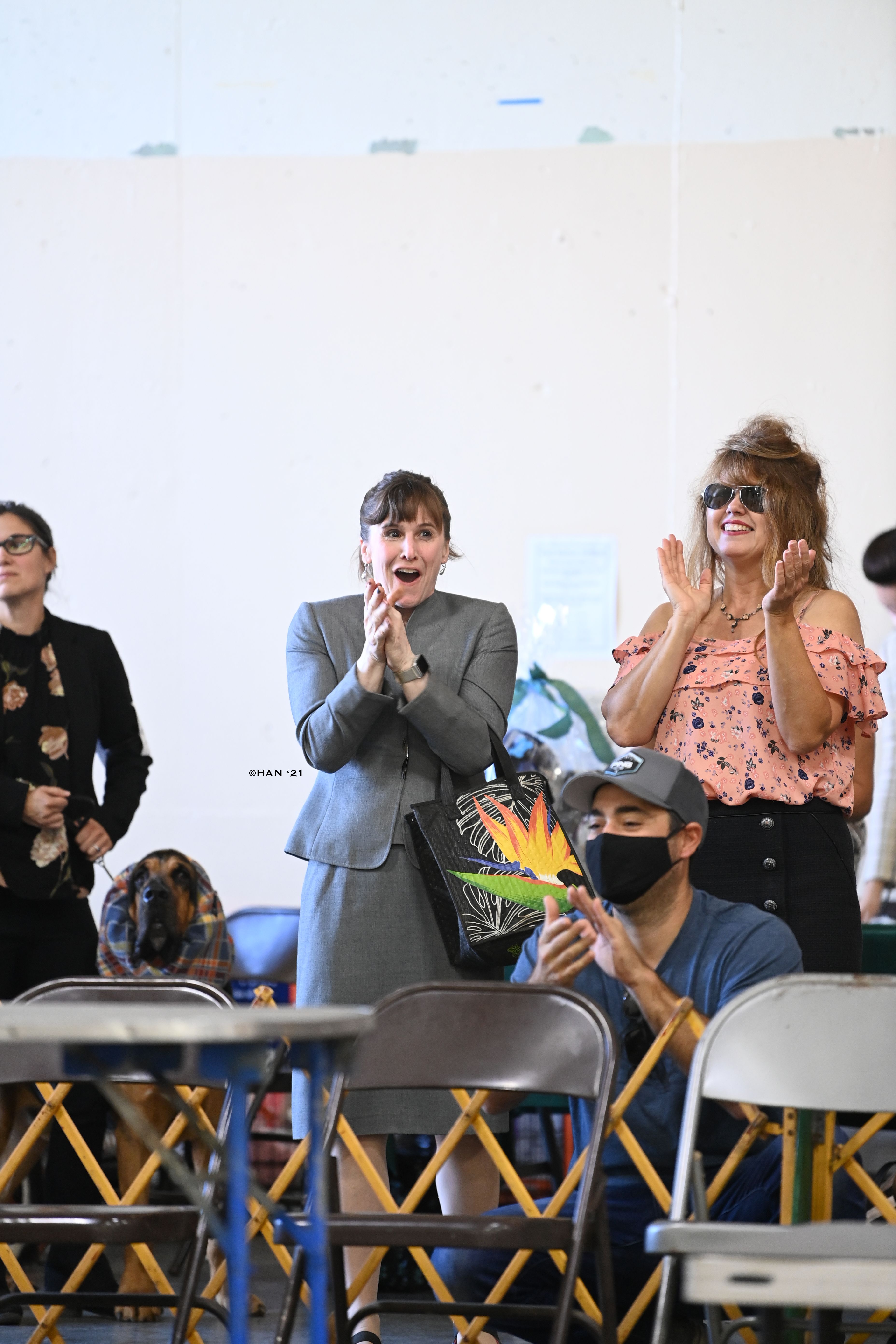 Winning the group, at this show, under Pat Trotter, was really a dream come true, and we couldn't really imagine it getting much better. We were on CLOUD NINE and planned to stay there for a really long time, enjoying the thrill and the honor of this award. We had a lot of fun taking pictures, going to dinner and really enjoying a historic day, for us, at the dog show. 
The next day, we showed in the am, but Holly had to leave before groups, in order to drive to Oregon State, to pick up Alta who was being bred up there, and to also bring home one of Geordi's pups from another breeder. With the cell reception being poor on the drive home in the RV, Holly turned off the cell signal to make the phone work better for other tasks. At home, it was a big job to unpack the dogs, and repack for Oregon. Around 4 pm, she realized she didn't know the group results, and turned on the phone. The phone came to life. Group 1!!! What? must be mistake? Maybe a message from yesterday that had gotten stuck? Holly texted back Josh, "Better tell me again if this is true? Group 1 again today?" Then, congratulations started rolling in as we got in the van to drive to Oregon. Again, no cell service. Holly started to get a feeling that something funny was happening. This was an awful lot of congratulations! Finally, right when coverage started up again, she heard from friend Diana Han. Heartfelt congratations. So Holly asks, "Thank you! He won the group again, right?" And that is when we found out, "HE WON BEST!"
What?! At that moment our world changed. We were part of Swissy history. We were in disbelief, joy, shock, and so excited for the whole team! Some regrets bubbled up about not being there, but then just gratitude remained, to the judges, the friends cheering for us, everyone who congratulated us, and our handling team. We will never know if Geordi would have put on the same show with Holly present- during Best in Show on Saturday, he was a bit distracted. And, being there the whole time on Saturday, watching the first group win and his first appearance in Best in Show, plus watching Warren Cook's great BIS video from his win, gives me the feeling of always being there. We were part of his big day, and showed to the Group judge in breed with the pups, so we have strong memories of the entire experience.
Thank you to the judges that gave us the most amazing dog show weekend of our lives: Pat Trotter, Dawn Hitchcock, and Sidney Marx.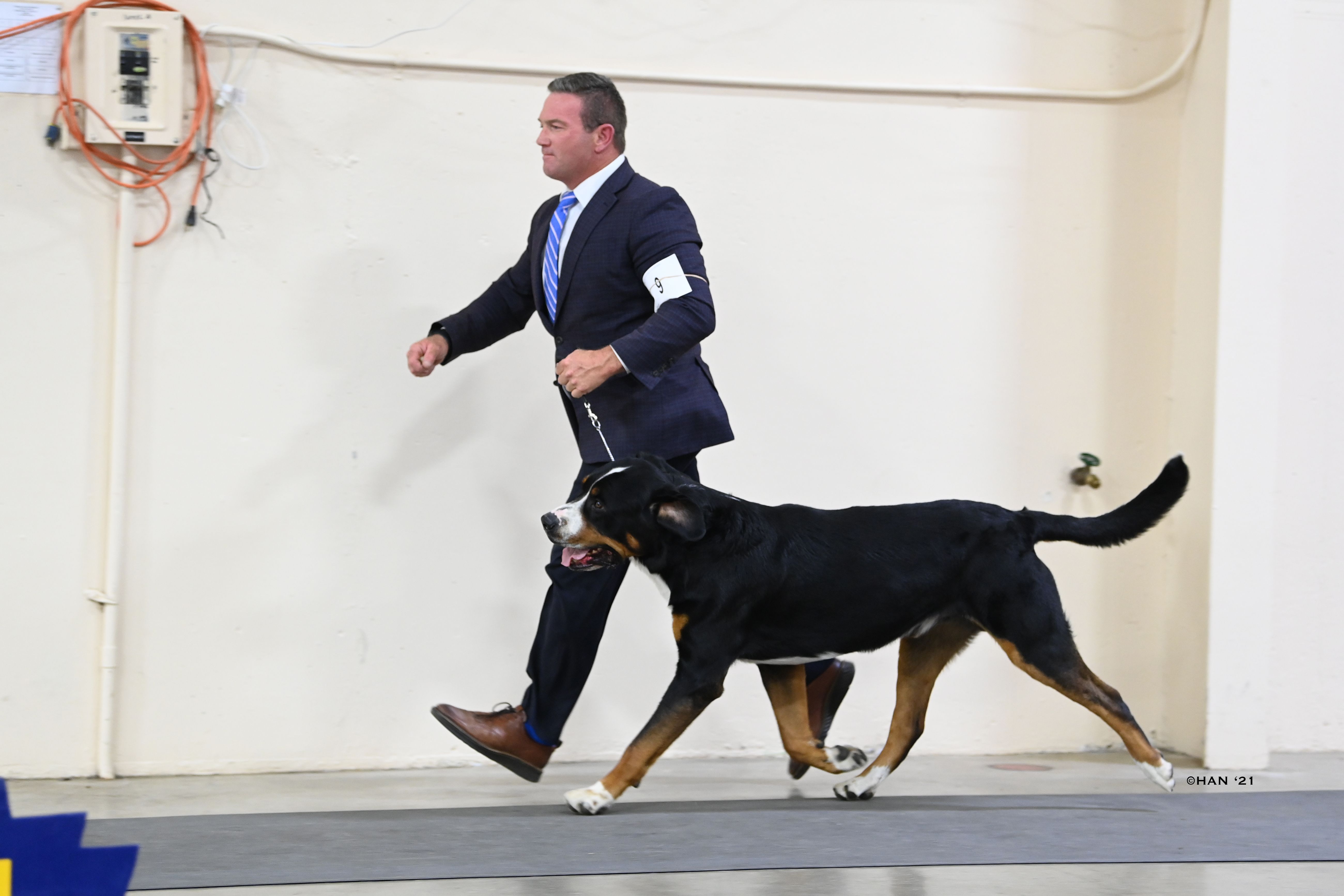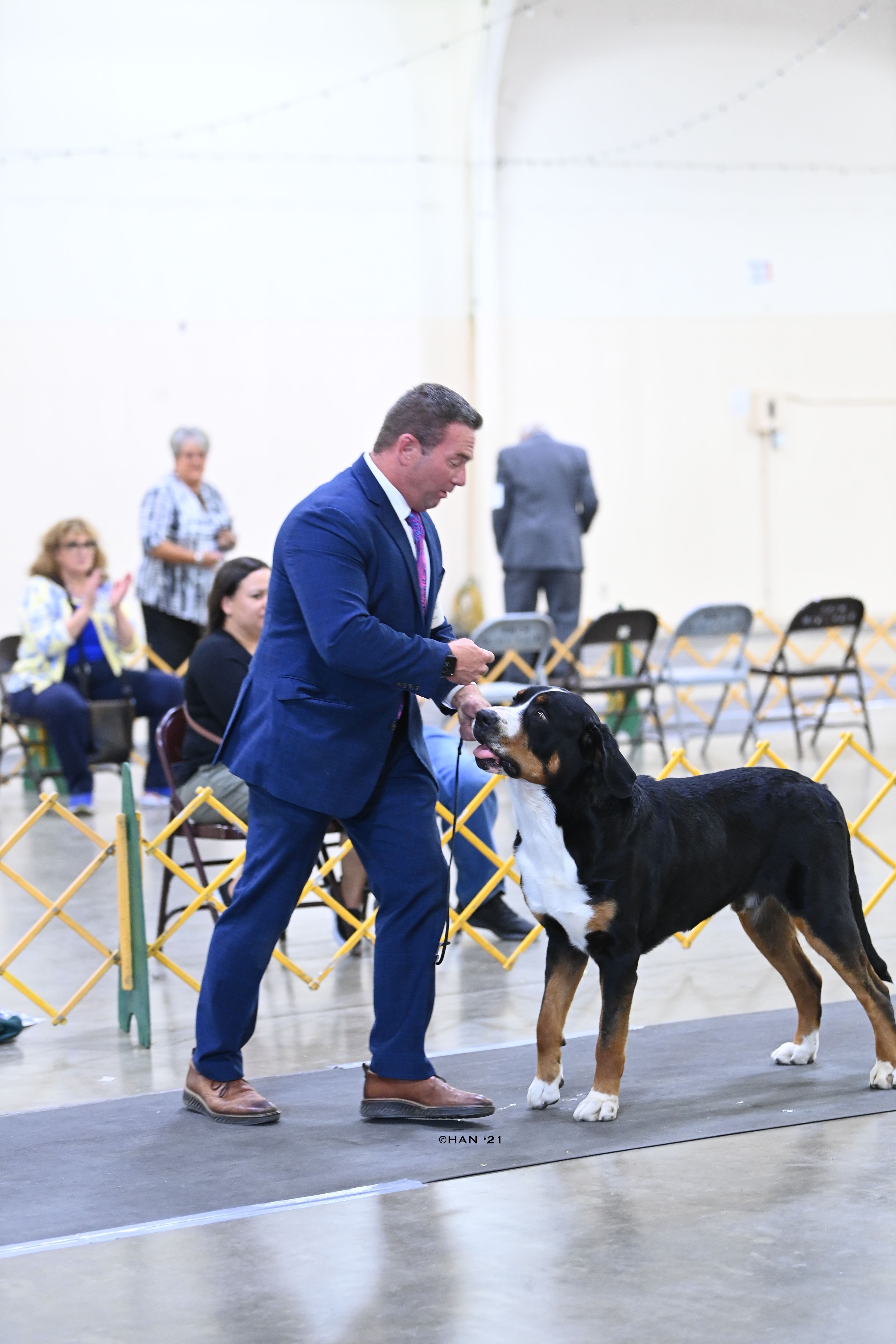 Above is the exact moment Josh figured out they had been selected for Best in Show! He is pretty surprised and happy!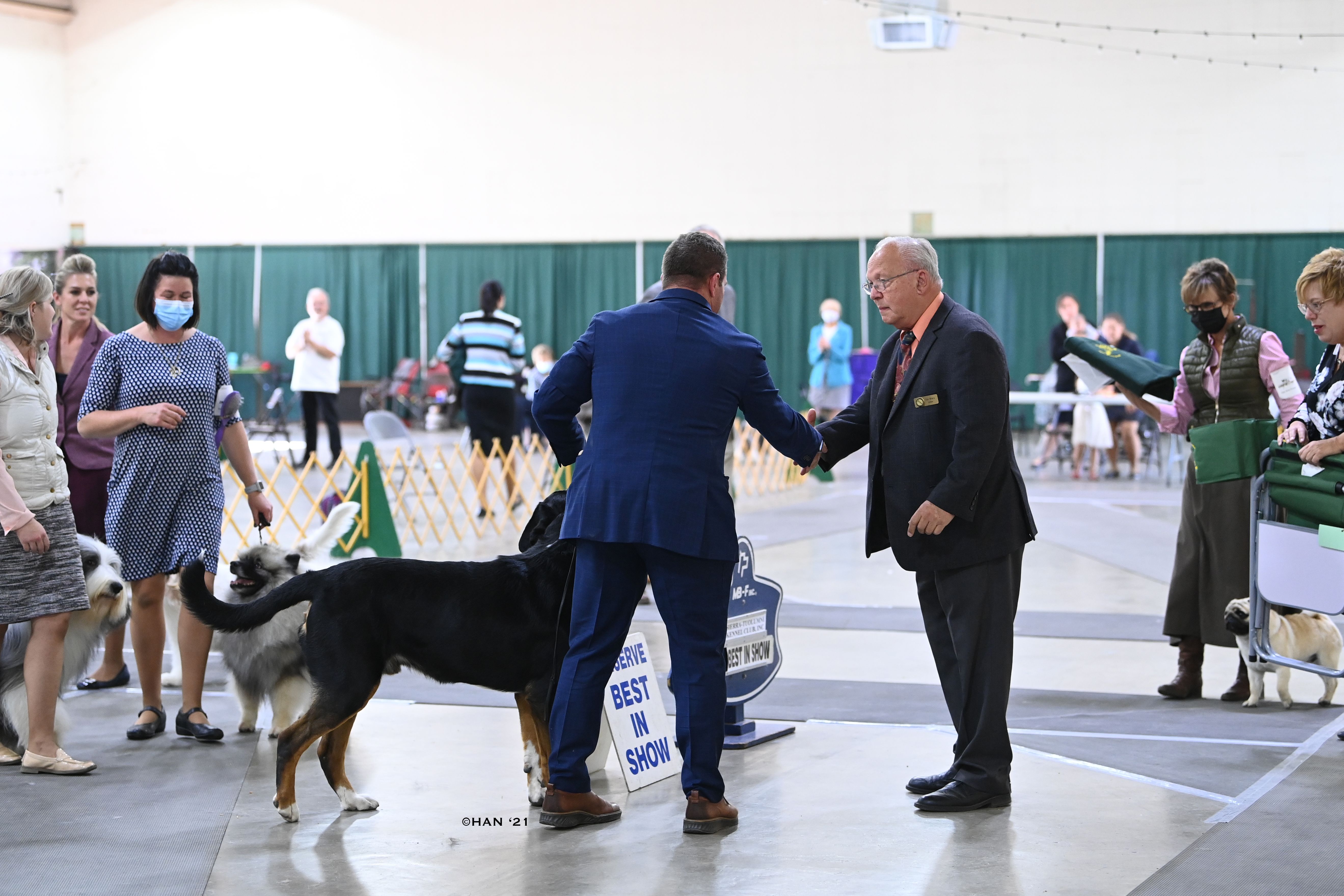 A lot of people worked hard to support Geordi in winning Best in Show. Team Summerwind had three dogs in Best in Show that day, and Catrina Castro showed Flynn allowing Josh to show Geordi. We are grateful for the help! We also thank the Kennel Club for putting on such a nice event, as always, and providing fantastic prizes we will always treasure, and to our friend Yvonne Shanto, who sent us some of those early congrats (that we thought were for the group and didn't realize were for BIS) and customized our trophies with Geordi's name on them.