Holly is an accountant and Jeff is a park ranger with the National Park Service. We were brought together by our love of Yosemite, Rock Climbing and Search & Rescue. We are located in Oakhurst, CA, near the Southern entrance to Yosemite National Park.

We are a small home-based breeding program with many years of experience with the Greater Swiss Mountain Dog. Holly welcomed home her first Swissy, Dagen, in January 2001.

Holly became immediately involved in the Cascade Club, and all sorts of Swissy activities, including carting, packing, weight-pulling, herding, obedience, and conformation dog shows. Holly and Dagen were a great team until he passed away in 2010 at the age of 9.5.

Holly was fortunate to meet Norman and DaLena Christensen of Snowy Mountain Farms, in 2001. She has spent many years learning from them, as one of the most experienced breeders of Greater Swiss Mountain Dogs on the west coast. Together they have co-owned two dogs, and to date have co-bred three litters. Holly bred her first litter, with DaLena, in 2003. Five of those pups were still living in 2015, at age 12!
Jeff met Holly and Dagen in 2008 and found out he really loves Swissies too. Together we raised Wookie, born in 2010, our first Swissy together. Wookie was raised in Yosemite and also lived in Grand Canyon National Park. Today we carry on with Wookie's kids, grandkids, great-grandkids and great-great-grandkids.

Today, we participate with our dogs in Conformation dog shows, Rally obedience, Carting and Weight Pull. We have additional experience in therapy dog visits, formal obedience, herding, and backpacking with Swissies, and are in training for agility with our youngest pups!

Both Holly and Jeff have met strict requirements to be named AKC Breeders of Merit Bronze.

Holly is the current Show Chair for Yosemite Kennel Club and a past Treasurer of the Greater Swiss Mountain Dog Club of America.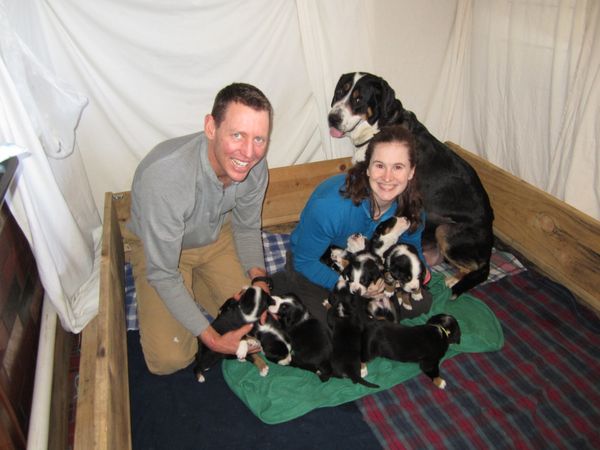 National Park Swissies
Jeff's job entails working in parks around the country. We have enjoyed welcoming our Swissy friends to many different parks, and park visitors love meeting a big friendly dog on their vacation. We spend a lot of time introducing the dogs every time we go on a walk. We have raised Swissies while working in Yosemite, Grand Canyon, Sequoia and Kings Canyon National Parks.