MBOSS GCHB CH Swiss Run's Miracle Dust at RODEO RN CGC TKN "PIXLEY"
Pixley Rivera joined us from Swiss Run in Vermont, bred by Deanna and Ben Never. Her father "Leroy" is from our 2014 Grand Canyon North Rim Litter (Mon x Wookie) and is a sibling to our Nexpa. What a joy it was to us to have and love this Wookie Granddaughter.
Pixley was an outgoing dog with lots of spunk who loved meeting new people. She finished her AKC championship from the 6-9 puppy class and her Grand Championship before turning 14 months old. She play-bowed her way to a Rally Novice title at age 15 months. At age 17 months, she became a Bronze Grand Champion. 
For 2018, Pixley was Ranked #3 Bitch and #5 GSMD Overall in the AKC 2018 Owner-Handled Series, which completed October 10, 2018. She was ranked #12 in Grand Champion Points and #24 in Breed Points and #30 All-breed for 2018 with limited showing over a total of about 7 months.
We share our grief with the Bryggman Family on Pixley's passing and will always remember her energy and enthusiasm for life.
01/20/2017 - 08/29/2020
Show Record Highlights:
Best of Opposite in Specialty Show, GSMDCA Sweetheart Specialty, Fresno, CA, February 2019
Back-to-Back Best of Breeds and new Bronze GCH, Del Monte KC, Carmel, CA, July 2018
NOHS Group Four, Santa Maria KC, Camarillo, CA, July 2018
NOHS Group Four, Oklahoma City KC, Oklahoma City, OK, June 2018
Best in Sweepstakes, Ozark GSMD Specialty, Oklahoma City, OK, June 2018
Best of Opposite in Specialty Show, GSMDCA Mid-West Regional Specialty, Grayslake, IL, June 2018
Select Bitch, Lake Shore GSMD Specialty #1, Grayslake, IL, June 2018
NOHS Group Two, Butte County KC, Yuba City, CA, May 2018
Best of Opposite, GSMDCA Supported Entry, and Rally Novice B- 4th place/New Title, Timonium, MD, April 2018
Best in Sweepstakes, GSMDCA Eastern Regional Specialty, Timonium, MD, April 2018
NOHS Group Three, San Luis Obispo KC, Bakersfield, CA, March 2018
Best of Opposite and New Grand Champion (with 6 majors), Sequoia KC, Hanford, CA, March 2018 (under 14 months)
Select Bitch and Best in Sweepstakes, Cascade GSMD Specialty #1, January 2018 (age 12 months)
NOHS Working Group 4, KC of Salinas, Napa, CA, November 2017
Winners Bitch, Best Puppy, 5 point Major, Best in Sweepstakes, GSMDCA Western Regional Specialty, Pleasanton, CA, October 2017
NOHS Working Group 3, Donner Trail KC, Roseville, CA, October 2017
Winners Bitch, Best of Winners, New Champion, 2 points, Grand Valley Kennel Club, October 2017 (6-9 puppy class)
Winners Bitch, Best of Winners, Best Owner-Handled, 5 point Major, GSMDCA Supported Entry, Farmington, UT, September 2017
Winners Bitch, Best Puppy, 4 point Major, GSMDCA Designated Specialty, Farmington, UT, September 2017
Best Puppy in Match, GSMDCA National Specialty, Bethleham, PA, May 2017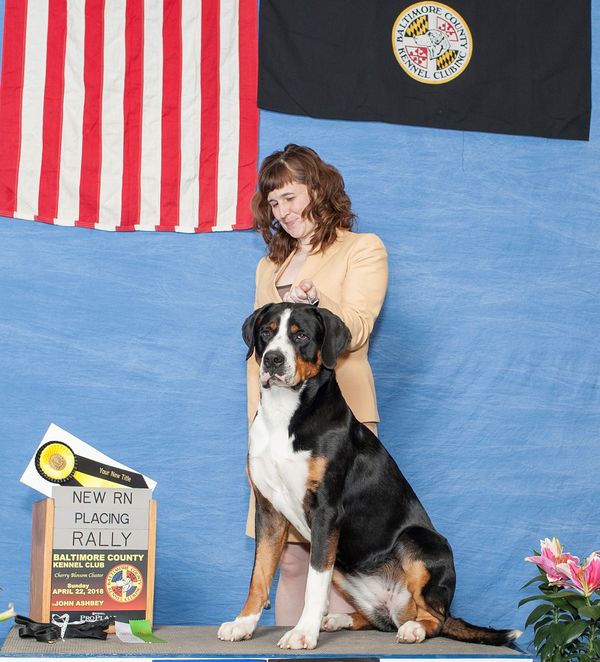 Titles and Official AKC Awards:
Bronze Grand Champion (17 months)
Grand Champion (13 months)
Champion (8 months)
Rally Novice (15 months)
Trick Dog Novice (9 months)
Canine Good Citizen (8 months)
AKC Achiever Dog (9 months)
Puppy of Achievement (8 months,1st GSMD)