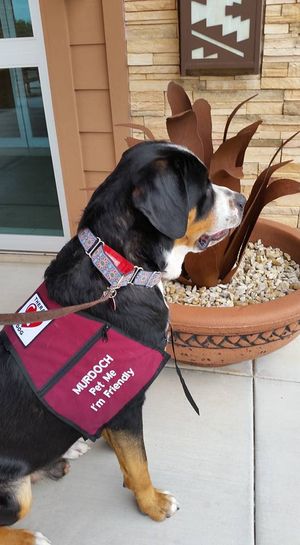 We are so proud of our budding therapy dog,
Murdoch
.
With his owner, Andie Hansen, he has gone through many levels of Canine Good Citizen courses and now has completed therapy dog training and started his actual therapy dog visits.
Being a therapy dog is different than being a service dog. A service dog assists their person who has a disability. Therapy dogs visit people who benefit from the presence of the dog. It can be anything from calming the nerves and souls of weary travelers at SFO airport, like our friend Hilary and her Swissy girl Kona, listening to children read, or visiting sick or infirm.
We don't have a lot of experience with Swissies as therapy dogs ourselves, so we are excited to watch Murdoch and Andie's journey.
We wanted to share more about a friend of ours with amazing accomplishments with his therapy dogs.
While not Swissies, they are big dogs with a lot of similarities.
Check out our friend Tommy Dickey's information on his Great Pyrenees dogs as therapy dogs. Both his boys have 1,000 therapy visits! We have become friends with Tommy at the shows and he has helped us show our Swissies! We really enjoy our Pyrenees friends and love watching Tommy's dog
Teddy work in the obedience ring. They are both very charming!
Click on the picture to learn more about Tommy's therapy dogs.